Weekly Classes for Students of All Levels
Green Forest Art Studio offers year-round weekly art classes to children ages 4 to 18 located in Union City (North Fremont) and South Fremont.  All classes are 1.5 hours in length (except Portfolio Development class which is 2 hrs).  Students may enroll at any time during the year.  Once enrolled, students may continue for as long as they like.

Children in our Explorers (4-7) and Foundations (7-10) programs will rotate through different materials and techniques each week with new lessons developed by our teaching staff each week. 
Children in our Advanced Study program will work on selected media & subject matter based on their individual interests.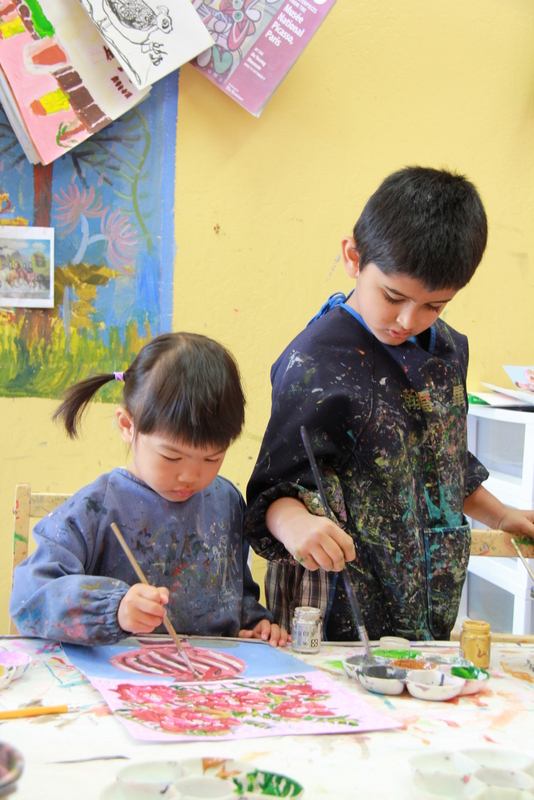 Small Class Sizes & Engaging Variety of Materials
Our teacher student ratio of one to six, combined with our personalized instruction allows teachers to cultivate close relationships with their students and to be mentors to aspiring artists.
Classes use an exciting variety of materials and art-making processes including Chinese Painting, Drawing, Painting (Watercolor, Acrylic, Oil), Sketch, Mixed Media, Clay, Sculpture, and Print Art.
Create artwork that reflects familiar topics while using a variety of materials.
Focuses on hand-eye coordination, learning shapes, colors, and use of basic materials.
Have fun while building self confidence and inspiring children to make their own creative choices.
Students design their own projects with guidance from the instructor
Understanding light, shadow, the human figure. perspective, composition, and developing finished pieces.
Focus on charcoal, pencil sketch, color pencil, watercolors, oils & acrylics including live sketch.
We work with students to assess individual portfolio requirements and offer projects customized to meet those requirements. 
We have extensive experience working with students on portfolios for high school and college applications.
Parents are invited to schedule a Free Introductory Class for their child.  This class can be scheduled when there is a permanent spot available in the requested class time.

If your child has already taken the trial class and you would like to register, click on the "Enroll Now" button below to continue.

2019 Holiday Schedule (No Class)
Labor Day – Sept 2 (Mon)
Halloween – Oct 31 (Thu)
Veteran's Day – Nov 11 (Mon)
Thanksgiving – Nov 25 (Mon) to Dec 1 (Sun)
Christmas – Dec 24 (Tues) & Dec 25 (Wed)
New Years – Dec 31, 2019 (Tues) & Jan 1, 2020 (Wed)
Payment Option A
10 week session for $340
($34/class, 90 mins)*
unused credits will expire 6 months after start date
Payment Option B
22 week session for $680
($30.90/class, 90 mins)*
unused credits will expire 1 year after start date.
Registration Fee
$20 (one-time, new students)

(non-refundable)
Accepted Payment Methods
We currently accept cash or checks payable to: "Green Forest Art Studio"

Contact Information
Union City / N. Fremont Studio
(near Ardenwood, Forest Park, Warwick, Delaine Eastin)
Green Forest Art Studio
32627 Alvarado Blvd.
Union City, CA 94587
South Fremont Studio
(near Mission San Jose, Irvington, Warm Springs, Niles)
Green Forest Art Studio
1974 Driscoll Rd
Fremont, CA 94539
Phone:
(415) 595-4680
Email:
info@greenforestartstudio.com
Studio Hours
Union City / N. Fremont Studio
Mon: 3:30pm - 8:00pm

Tues: 3:30pm - 8:00pm

Wed: 2:00pm - 7:00pm

Thurs: 4:30pm - 7:30pm

Fri: 3:30 - 6:45pm

Sat: 9:00am - 7:00pm

Sun: 10:30pm - 3:00pm
South Fremont Studio
Mon: 3:30pm - 8:00pm

Tues: 3:30pm - 8:00pm

Wed: 2:00pm - 7:00pm

Thurs: 4:30pm - 7:30pm

Fri: 3:30 - 6:45pm

Sat: 9:00am - 7:00pm

Sun: 12:00pm - 3:00pm
Congratulations to our student Julianne Yang (5th Grade) for her achievement in the 2019 China International Children's Cartoon Contest. She won the outstanding prize (10 out of 43,000 entries) in the contest, which hosted by the Executive Committee Office of...