Promotion: Signup for 3 or more weeks & Get 5% OFF (limited time only)
Morning and afternoon sessions available
Online & In-Person (Union City studio, Fremont studio) options
Explore a different theme each week!
Daily projects incorporate a variety of skills and techniques.
Juice and snacks are included (in-person option)
Sample Schedule
Mon
Tues
Wed
Thurs
Fri
AM
or
PM
Canvas Painting
Clay Sculpture
Canvas Painting
Clay Sculpture
Canvas Painting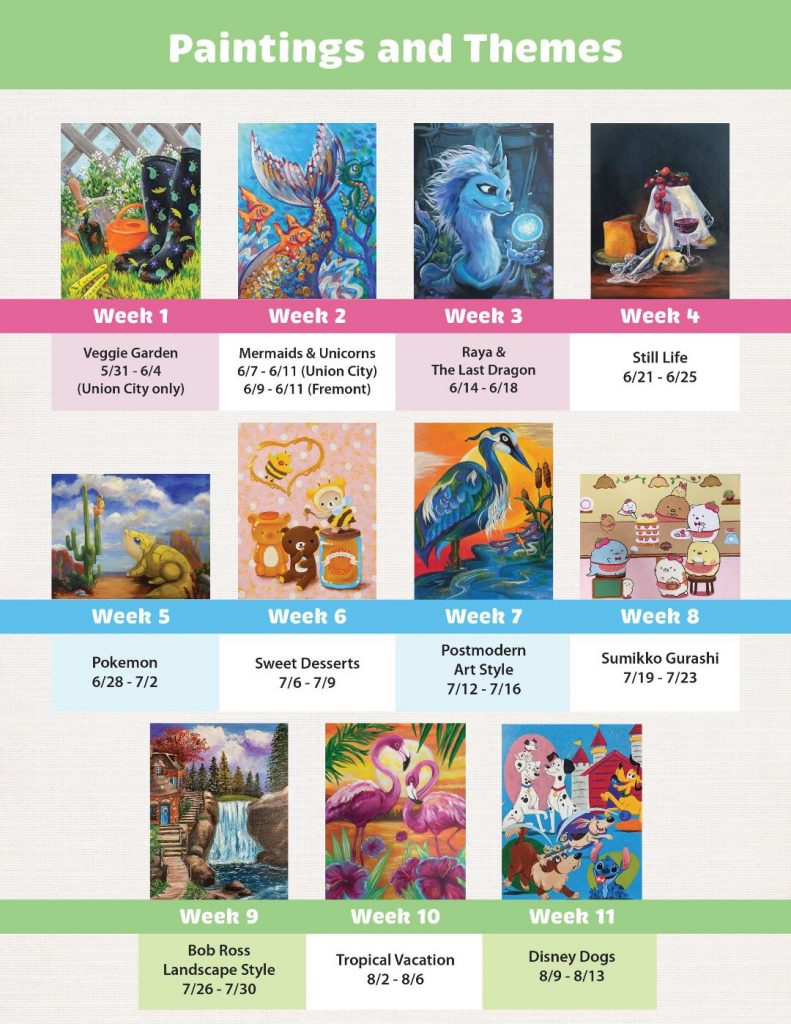 SUMMER ART CAMP
(2021 – Weekly Schedule)
1. May 31-June 4 (only Union City location): Veggie Garden 
2. June 7-11 (full week at Union City location) / June 9-11 (half week at Fremont location): Mermaids & Unicorns 
3. June 14-18: Raya & the Last Dragon
4. June 21-25: Still Life
5. June 28-July 2: Pokemon
6. July 5-9: Sweet Desserts (Note: No class July 5 – tuition will be prorated)
7. July 12-16: Postmodern Art style
8. July 19-23: Sumikko Gurashi
9. July 26-30: Bob Ross Landscape style
10. Aug 2–6: Tropical Vacation
11. August 9-13: Disney Dogs
Camp Tuition (includes materials)
Summer Art Camp is available for children ages 5 to 18 years old.  Students may select either the morning or afternoon session.
Materials will be included.  Dress in clothes that you don't mind getting a little messy.  If desired, students may bring their own water bottle.  Students need to be wearing masks during class (we can provide masks if students forget to bring them).
Half Day Sessions (IN STUDIO option)
Morning: 9:00am – 12 noon
OR
Afternoon: 1:00pm – 4:00pm
Half Day Sessions (ONLINE option)
Morning: 10:00am – 12 noon
OR
Afternoon: 1:00pm – 3:00pm
Accepted Payment Methods
We currently accept Zelle, cash, or checks payable to: "Green Forest Art Studio"
If you have any questions and about the Fremont Summer Camp Art program at Green Forest Art Studio or would like more info, please call us at (415) 595-4680 or click on the "Contact Us" button below.
Step 1: Online Registration Form
Please register online by completing the new student registration form below (once per family). (If you would like to schedule a trial class, click HERE.)
Note: When completing this form for Summer Camp Registration, please use the "Message" field to indicate:

Selected week(s)?
AM or PM camp?
Online or In-Person option?
Union City or Fremont location?
Mail or drop off deposit – $100 per student per week

Include check payable to "Green Forest Art Studio"
Include the following information

Student's Name
Age
Selected week(s) (e.g. "Week 3: Jun 17-21") & Selected schedule (e.g. "Full Day" or "AM" or "PM")
Contact phone number

If mailing, send to the following address

Attn: Summer Art Camp
Green Forest Art Studio
32627 Alvarado Blvd.
Union City, CA 94587
Enrollment – Camp sessions are limited in space and are formed on a first-come first-served basis.

Minimum Class Size – Minimum of 4 students is required to form a session.
Returned Check Fee – There is a $20.00 returned check charge for any checks returned by the bank.
Pick-up and Drop-off – Parents / guardians are required to accompany students when arriving and departing. Please drop off and pick up your child on time. A fee of $1/minute will be charged for late pickups.
Washrooms – Children must be washroom independent, as no assistance will be provided.
Children may be removed from the program at the discretion of the instructor.
COVID-19 Safety Information
When will Green Forest Art Studio reopen?
We are excited that the Green Forest Art Studio will be reopening both of its locations for Summer Camp 2021 beginning on Monday, May 31.  Weekly classes will continue to be held online.  We have not yet announced the date for resuming in-person weekly classes, although please check back for future updates.
What Will Stay the Same?
We will continue to provide quality art instruction from our highly trained staff.

We will maintain our low student-to-teacher ratio to ensure adequate attention.

We will continue to offer an engaging curriculum that develops fundamental techniques.

Students will gain proficiency in a wide variety of artistic mediums and fluency in important artistic styles.
What Changes Will We See?
Wellness checks

for students and staff before entering the building

Students should

wash hands

or use

hand sanitizer

upon entrance

For summer camp, students will be assigned to

stable cohorts

including a dedicated teacher & classroom

We will have a

reduction of people

in our facility at one time.  Seating arrangements will be modified so that students are spaced apart based on current CDC guidance.

Social distancing will be enforced in all areas. 

Additional

signage

will be placed throughout our buildings to help remind everyone of good social distancing.

Ventilate the Classroom:

Open doors

for 5 – 10 minutes at a time, every 30 – 60 minutes.

We encourage all students to use the restroom before leaving home for class.  Bathrooms will be available for use.  If students use the bathroom, we will sanitize after each use.
Will Facial Coverings be Required?
Face coverings over both nose and mouth are required for anyone 2+ years

Our staff will be wearing masks to protect our students and other staff.
Will You be Doing Wellness Checks?
Yes, the temperature of the parents and students will be screened before entering the building using a touch-free thermometer (100.0 °F or above indicates fever).

Before you enter the facility, we will ask if the student or parent has experienced a fever or cough.

We will also be doing health and temperature screenings on all team members when they arrive for work each day

We are also relying on families to self-screen and stay home if they have any symptoms

We will ensure that parents can be reached should there be any reason they need to be contacted immediately.

Students and staff with symptoms will be sent home.
What Enhanced Cleaning are You Doing?
We have enhanced our cleaning and disinfecting to prevent the spread of COVID-19 by using CDC authorized disinfectants and focusing on cleaning the high touch areas.
How Can I Help Keep Everyone Safe?
If you suspect your child has contracted any illness, it is important that he/she does not attend Green Forest Art Studio until he/she is no longer symptomatic. Thank you for your help in keeping our children and our community at Green Forest Art Studio healthy.

Here are a few tips from the Centers of Disease Control and Prevention:

Teach your children to wash their hands often. Washing with soap and warm water for at least 20 seconds is ideal. (That's about as long as it takes to sing the "Happy Birthday" song twice).

Teach your children the proper use of hand sanitizer in case they do not have access to a sink for washing their hands. Gels, rubs, and hand wipes all work well, as long as they contain at least 60% alcohol and if the hands are not visibly soiled.

Hand wipes must be disposed of properly. Always read and follow label instructions when using hand sanitizer.

Teach your children to keep their hands away from their face and avoid touching their mouth, nose, or eyes when possible.

Teach your children to cover coughs and sneezes with tissues or by coughing into their sleeve or the inside of their elbow – not their hands. If a tissue is used, it should be thrown out immediately.