Summer Art Camp 2020
THIS PAGE IS NO LONGER VALID. PLEASE SEE ONLINE SUMMER ART CAMP PAGE INSTEAD.
Register Now
Promotion: Signup for 3 or more weeks & Get 10% OFF (limited time only)
Explore a different theme each week!
Daily projects incorporate a variety of skills and techniques.
Field Trips
Juice and snacks are included.
Students enrolling in Full Day sessions should bring their own lunch. Lunch can also be ordered on the day of camp for $6/day (e.g. Chipotle, Subway, Pizza Hut, etc.)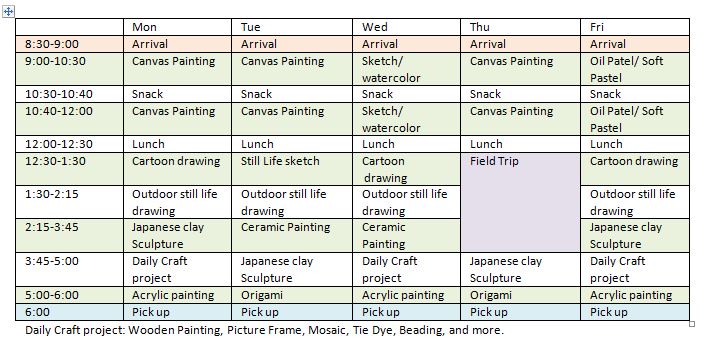 SUMMER ART CAMP
(2020 – Weekly Schedule)
0. June 1-5: Precocious Pets (Puppies, Kitties, Hamsters and More!)
1. June 8-12: Mulan (Chinese Art through the Lens of a Princess)
2. June 15-19: Food and Art (Artwork Good Enough to Eat!)
3. June 22-26: Japanese Gardens (A Beloved subject throughout Art History)
4. June 29-July 3: Star Wars (Exploring the Galaxy)
5. July 6-10: Among the Mountains (Artistic Renditions of Mountain Landscapes)
6. July 13-17: Sumiko Gurashi (Characters come to Life!)
7. July 20-24: Music and Art (Exploring Elements of Synesthesia in Art)
8. July 27-31: In the Ocean Deep (Exploring the Ocean through Art)
9. Aug 3–7: Cityscapes (Urban and Suburban Landscapes)
10. August 10-14: Anime Art (The Style, Characteristics, and Diversity of Anime)
11. Aug 17-21: Bewitching Birds (Renditions of Feathered Friends)
12. Aug 24-28: Medieval Creatures (Mythical Creatures and their Historical Representations)
Camp Tuition (includes materials, snacks)
Summer Art Camp is available for children ages 5 to 18 years old.  Students may select either the full-day or half-day (morning or afternoon) session.
Parents are also welcome to bring their child on a drop-in base with 24 hr. notice prior to the class. Please note that "drop-in" is possible only if space is available.
Full Day Session
8:30am – 6:00pm
Half Day Sessions
Morning: 8:30am – 12 noon
Afternoon: 12:30pm – 4:00pm
Drop-In
$75 / day – half day
$115 / day – full day
Extended Care
$10 / 30 mins
Deposit
$100 (per child, per week)
Deposit is due at time of registration
Balance is due on the first day of the session.
Accepted Payment Methods
We currently accept cash or checks payable to: "Green Forest Art Studio"
If you have any questions and about the Fremont Summer Camp Art program at Green Forest Art Studio or would like more info, please call us at (415) 595-4680 or click on the "Contact Us" button below.
Step 1: Online Registration Form
Please register online by completing the new student registration form below (once per family). (If you would like to schedule a trial class, click HERE.)
Note: When completing this form for summer camp registration, please use the "Message" field to indicate which week(s) you are enrolling in.
Mail or drop off deposit – $100 per student per week

Include check payable to "Green Forest Art Studio"
Include the following information

Student's Name
Age
Selected week(s) (e.g. "Week 3: Jun 17-21") & Selected schedule (e.g. "Full Day" or "AM" or "PM")
Contact phone number

If mailing, send to the following address

Attn: Summer Art Camp
Green Forest Art Studio
32627 Alvarado Blvd.
Union City, CA 94587
Enrollment – Camp sessions are limited in space and are formed on a first-come first-served basis.

Minimum Class Size – Minimum of 4 students is required to form a session.
Returned Check Fee – There is a $20.00 returned check charge for any checks returned by the bank.
Pick-up and Drop-off – Parents / guardians are required to accompany students when arriving and departing. Please drop off and pick up your child on time. A fee of $1/minute will be charged for late pickups.
Washrooms – Children must be washroom independent, as no assistance will be provided.
Children may be removed from the program at the discretion of the instructor.