Promotion: Signup for 3 or more weeks & Get 5% OFF (limited time only)
Morning, afternoon, and full day sessions available
In-person at Union City studio &  Fremont studio
Explore a different theme each week!
Daily projects incorporate a variety of skills and techniques.
Juice and snacks are included. 

Students enrolling in Full Day sessions should bring their own lunch.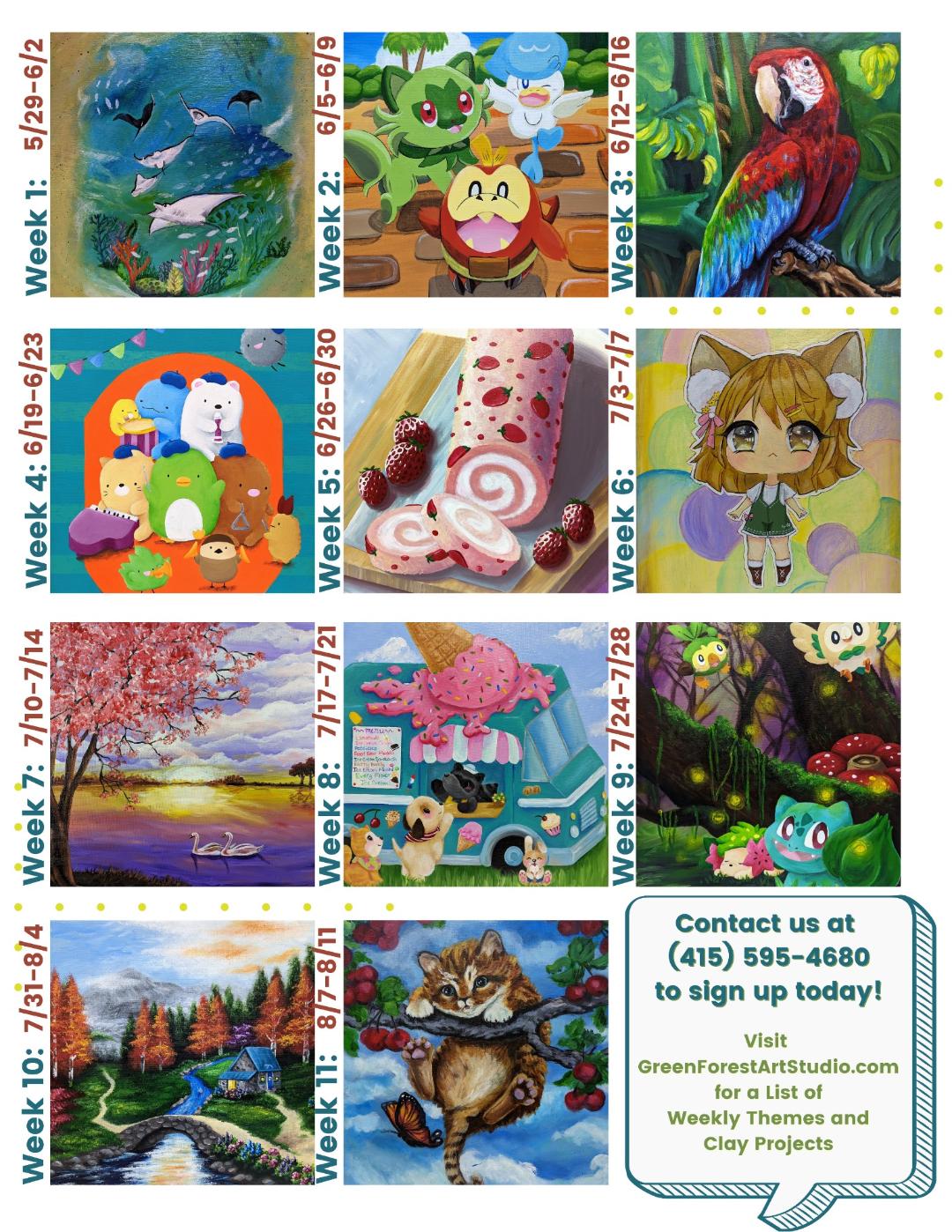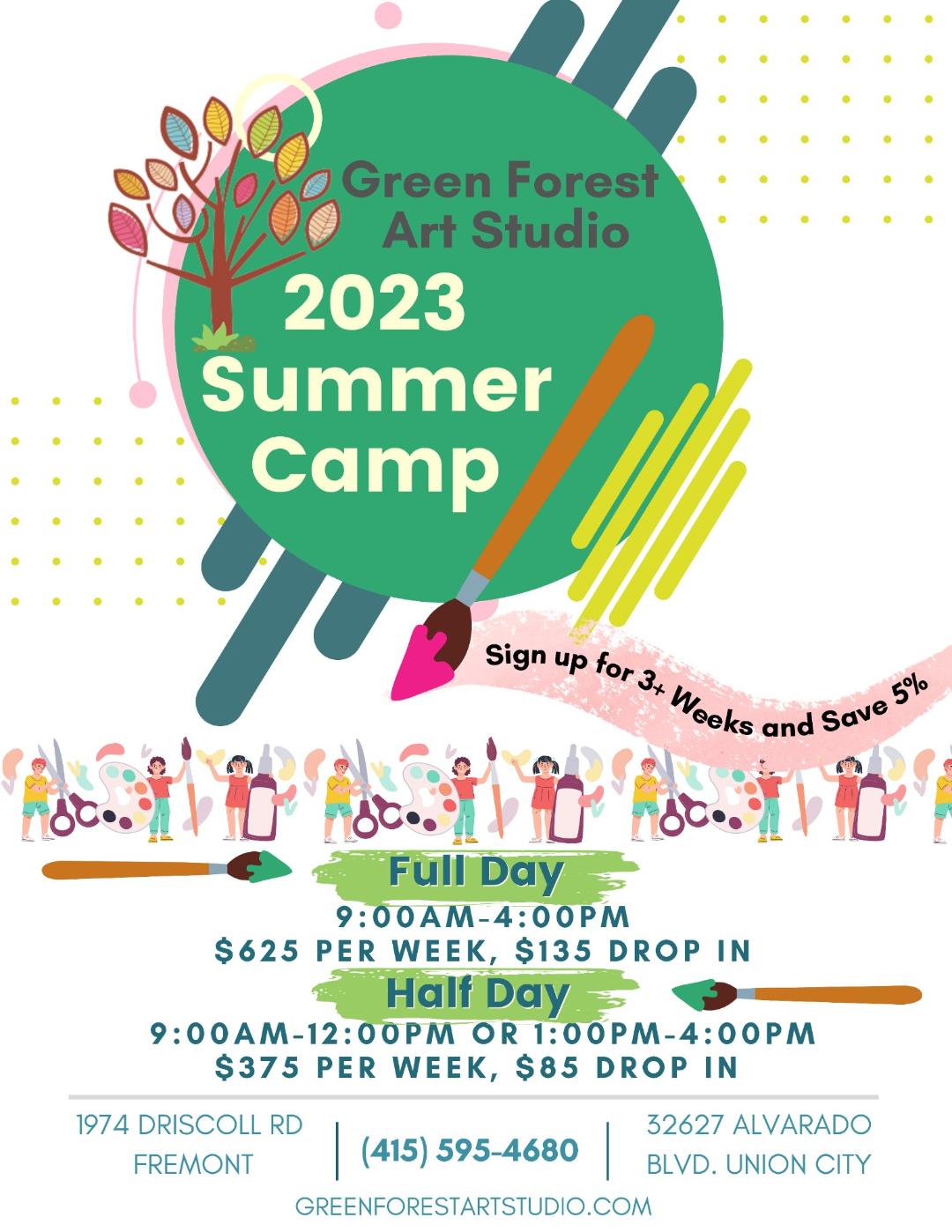 SUMMER ART CAMP
(2023 – Weekly Schedule)
1. May 29-June 2: Under the Waves
2. June 5-9: Pokemon: Choose your Starter
3. June 12-16: Exploring the Jungle
4. June 19-23: Music Class with Sumikko Gurashi
5. June 26-30: Strawberry Sweets
6. July 3-7: Chibi Summer (Note: No class July 4 – tuition will be prorated)
7. July 10-14: Shade of the Cherry Blossom
8. July 17-21: Frozen Treats
9. July 24-28: Dreamy Forest Pokemon
10. Jul 31–Aug 4: Cottage Road
11. August 7-11: Cutest Companion
PORTFOLIO CAMP
(2022 – Weekly Schedule)
9am – 12pm (Monday – Friday)
Fremont Location Schedule
June 20-24
June 27-July 1
July 5-8
July 11-15
Union City Location Schedule
July 18-22
July 25-29
August 1-5
August 8-12
Camp Tuition (includes materials)
Summer Art Camp is available for children ages 5 to 18 years old.  Students may select either the morning, afternoon , or full day session.
Materials will be included.  Dress in clothes that you don't mind getting a little messy.  If desired, students may bring their own water bottle.  Students need to be wearing masks during class (we can provide masks if students forget to bring them).
Half Day Sessions
Morning: 9:00am – 12 noon
OR
Afternoon: 1:00pm – 4:00pm
Full Day Sessions
Time:  9:00am – 4:00pm
(Students enrolling in Full Day sessions should bring their own lunch.)
Drop-In
You are also welcome to bring your child on a drop-in basis with 24 hr. notice prior to the class. Please note that "drop-in" is possible only if space is available.
Half Day (Morning or Afternoon) – $85
Full Day – $135
Accepted Payment Methods
We currently accept Zelle, cash, or checks payable to: "Green Forest Art Studio"
If you have any questions and about the Fremont Summer Camp Art program at Green Forest Art Studio or would like more info, please call us at (415) 595-4680 or click on the "Contact Us" button below.
Step 1: Online Registration Form
Please register online by completing the new student registration form below (once per family). (If you would like to schedule a trial class, click HERE.)
Note: When completing this form for Summer Camp Registration, please use the "Message" field to indicate:

Selected week(s)?
AM or PM or Full Day camp ?
Union City or Fremont location?
Step 2: Submit Payment (after Space is Confirmed)
After completing the registration form, we will email you to inform you regarding availability for the selected session(s) and the total amount.  Spaces are first come, first served. To hold your space, please submit payment within 24 hours after receiving this email.
We currently accept Zelle, Cash, or Checks 
Payment by Cash (Drop off at studio)
Payment by Checks (Mail or Drop off at studio)

Include check payable to "Green Forest Art Studio"
Include the following information

Student's Name
Age
Selected week(s) (e.g. "Week 3: Jun 17-21") & Selected schedule (e.g. "Full Day" or "AM" or "PM")
Contact phone number

If mailing, send to the following address

Attn: Summer Art Camp
Green Forest Art Studio
1974 Driscoll Rd
Fremont, CA 94539
Cancellation Policy –
Cancel prior to May 1, 2023 – full refund, less $20 processing fee
Cancel between May 1, 2023 to seven (7) days prior to camp start date – 100% credit less $20 processing fee, usable for any Green Forest Art Studio offering through December 31, 2023
Cancel within seven (7) days prior to camp start date – no credit or refunds
Enrollment – Camp sessions are limited in space and are formed on a first-come first-served basis.

Minimum Class Size – Minimum of 4 students is required to form a session.
Returned Check Fee – There is a $20.00 returned check charge for any checks returned by the bank.
Pick-up and Drop-off – Parents / guardians are required to accompany students when arriving and departing. Please drop off and pick up your child on time. A fee of $1/minute will be charged for late pickups.
Washrooms – Children must be washroom independent, as no assistance will be provided.
Children may be removed from the program at the discretion of the instructor.