Summer Camp 2018: Green Forest Art Studio (Union City / N. Fremont)
Promotion: Signup for 3 or more weeks & Get 15% OFF (limited time only)
Classes taught by Art Director Emma Peng.
Explore a different theme each week!
Daily projects incorporate a variety of skills and techniques.
Field Trips
Juice and snacks are included. Students enrolling in Full Day sessions should bring their own lunch.
SUMMER ART CAMP (2018 - Weekly Schedule)
-1. (JUST ADDED) June 4th-8th: Adventure in Summer, Summer Landscape
0. (JUST ADDED) June 11th-15th: Kauai Art, Hawaii at Your Fingertips
1. June 18th-22nd: Abstract Art, Where Imagery and Imagination Meet
2. June 25th-29th: Anime Art: Chibi and Kawaii Art Styles Explored
3. July 2nd-6th (shorter week because of 4th of July): Birds of the Night, Owls and Other Feathered Friends
4. July 9th-13th: The Incredibles, Superheroes and Their Superpowers
5. July 16th-20th: Landscapes, Exploring Nature through Different Artistic Movements
6. July 23rd-27th: Mary and the Witch's Flower: The Animations of Hiromasa Yonebayashi
7. July 30th- August 3rd: Fancy Foods: Drawing the Culinary Arts
8. August 6th-10th: Pokemon: Gotta Catch 'em All
9. August 13th-17th: Prized Pets, Painting Our Animal Friends
10. August 20th-24th: Talking Tom Gold Run, Art in Video Games
Daily Schedule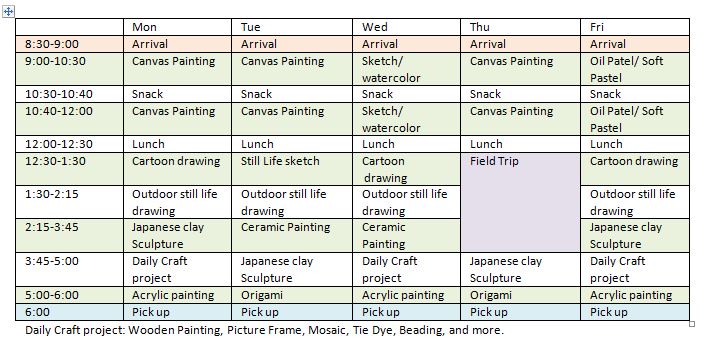 "My daughter took classes at Green Forest Art Studio and loved it. She adores Miss Emma and recently had a birthday party here as well. It was great fun. We've also done the summer camps, and those have been great too. We're looking forward to going again this summer."
Example Themes
SESSIONS
Summer Art Camps runs in two half-day (morning & afternoon) and full-day sessions for children ages 5 to 18 years old.
Morning Session: 8:30am - 12 noon
Afternoon Session: 12:30pm - 4pm
Full Day Session: 8:30am - 6pm
- You are also welcome to bring your child on a drop-in base with 24 hr. notice prior to the class. Please note that "drop-in" is possible only if space is available.
CAMP TUITION (includes materials)
Full week half day sessions: $310
Full week full day sessions: $515
Drop-In: $65 half day / $115 full day
- $100 deposit (per child / per week) is required upon registration.
- Extended care $6/hr
- Camp sessions are limited in space and are formed on the first-come first-served basis.
- Minimum of 4 students is required to form a session.